Kit Assembly
This kit is rated as easy, takes around 2 hours to make and is suitable for all ages. The only equipment needed to complete this kit is a soldering iron and a pair of flush cutters. You can add some solder to your kit by selecting it from the drop down menu options.
What Is A Baby8?
The Baby8 is not an instrument in itself, but a controller of a vast array of other noise making devices with a 0-5V CV input. Examples include our Mini Atari Punk Console, synthesizers, drum machines, effects pedals – the list is endless!
A Helping Hand
All our kits are packaged with a cheat sheet which helps you identify the resistors by the 5 colour bands. We are always available to help with any questions you may have, just get in touch and we'll respond ASAP
2X FUNCTION OPTIONS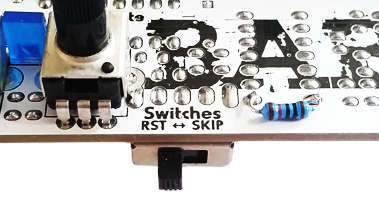 Step Reset Mode
Set the length of your sequence from 1-8 steps in this mode. Simply set the switch after your chosen number of steps to reset and away you go!
Step Skipping Mode
When selected, this mode enables you to set any of the switches (2-8) to 'skip' and then continues with the rest of the sequence creating all manner of funky rhythms!
don't just take our word for it!!
"Good description, easy transaction. Brilliant kit. Thanks"
"Awesome kit, excellent instructions! This was my first real soldering project, and I couldn't be more pleased with how it turned out. Be sure to order the CV-out pin header option for more fun with external modular toys. I use it with my Bastl Kastle for hours of sound making :-)"
"Outstanding Item arrived as advertised and very safely packaged, Thank You!!!!!!"
"Very Good Very Easy just took 90 mins to complete and is good fun to use *******"
what's included in the baby8 kit
PCB
4x Stand-offs and nuts
9x 10k Potentiometers
1x 500k Potentiometer
2x 10u Electrolytic Capacitor
1x 4u7 Electrolytic Capacitor
3x 100n Ceramic Capacitor
9x LEDs
1x Right Angle Switch
8x SPDT Slide Switch
3x Mono Jack
4x 1k0 Resistors
2x 4k7 Resistors
4x 10k Resistors
2x 22k Resistors
2x 33k Resistors
1x 47k Resistor
3x 100k Resistors
8x 200k Resistors
9x 1N1448 Diodes
1x CD4017
1x CD4093
1x LM324N
1x 78L05 5V Regulator
Battery Snap  ( Please Note: Battery Is Not Included)