Kit Assembly
This kit is rated as easy, takes around 45 mins to make and is suitable for all ages. The only equipment needed to complete this kit is a soldering iron and a pair of flush cutters. You can add some solder, a mini speaker and some breakout wires to your kit by selecting them from the drop down menu options.
How It Works
Grab yourself a 9v pp3 battery (not included) and connect it up to the battery snap. Turn the APC on using the on/off power switch, and adjust the two knobs to control the pitch and depth of the delirious tones produced! Pop it into LDR mode and the same effect happens when you raise/lower your hands over each one to variate the amount of light (=resistance)
A Helping Hand
All our kits are packaged with a cheat sheet which helps you identify the resistors by the 5 colour bands. We are always available to help with any questions you may have, just get in touch using the 'contact us' page with a description and (where necessary) some photos of your problem and we'll respond ASAP
3X AUDIO OUT OPTIONS
1/4″ Jack : Option 1
Plug your own headphones into the 1/4″ stereo socket. (Mono output)
1/4″ Jack: Option 2
Plug into your own speaker/amp into the 1/4″ stereo socket.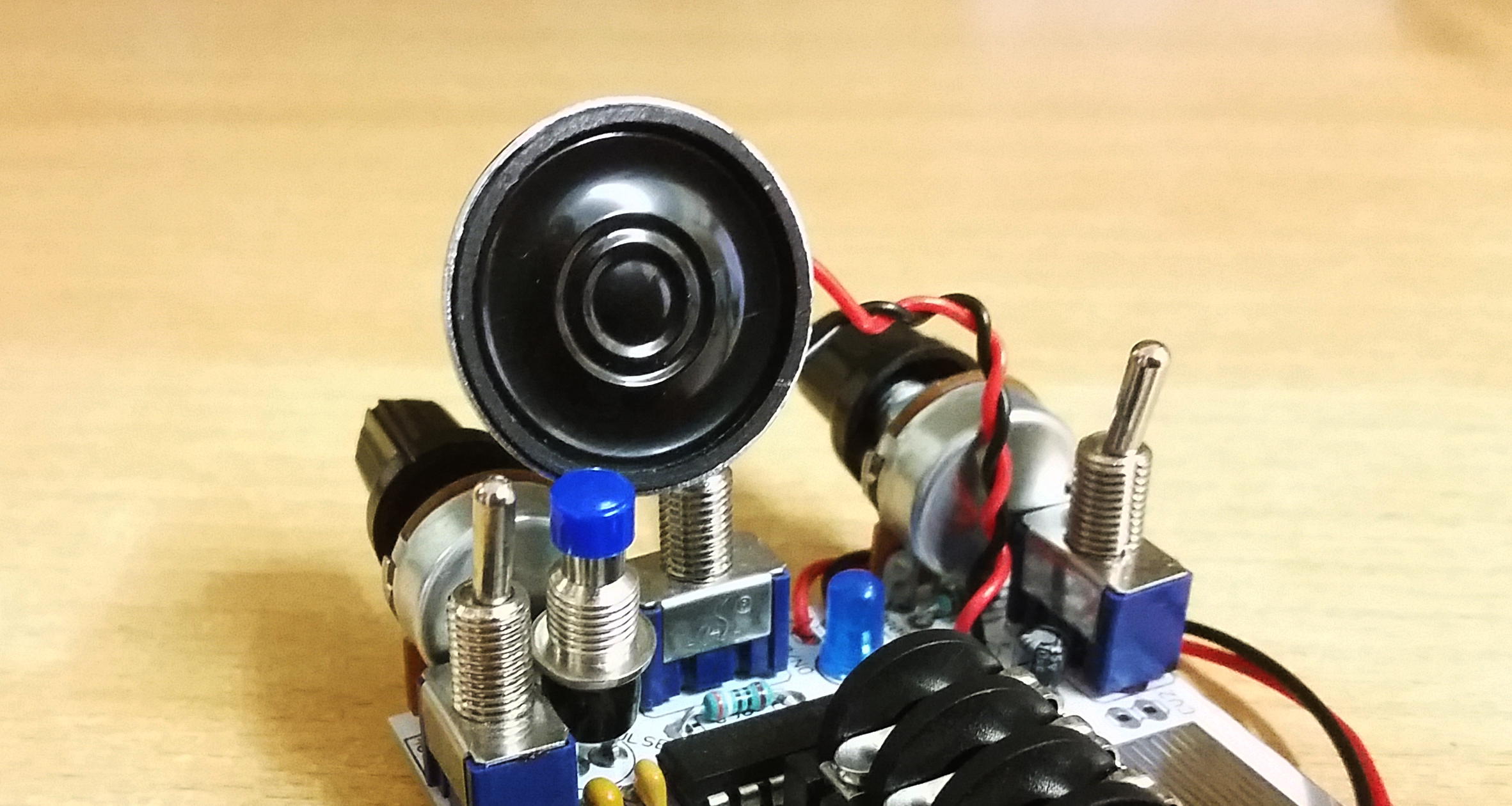 Option 3
Buy one of our our little 26mm speakers with your kit and solder it into place.
DON'T JUST TAKE OUR WORD FOR IT…!
"Great service, awesome kit! Thanks heaps! Cheers from Oz!! 5 Stars!!!!"
"Great kit, I really enjoyed building this."
"Arrived as described and quickly. Wonderful product."
"Outstanding Item arrived as advertised and very safely packaged, Thank You!!!!!!"
"Brilliant love the complimentary free gift also! ;D"
KIT CONTENTS
500K Ohm Linear Potentiometer (x2)
NE556 Dual 555 Timer IC
390 Ohm Resistor
10K Resistor
4.7K Resistor
1K Resistor (x3)
PCB
Potentiometer Knobs (x2)
Blue Panel Mount Momentary Push- Button
5mm Blue LED
LDRs (Light Dependant Resistors) x2
10uF Electrolytic Capacitor
9V (pp3) Battery Snap
10nF Ceramic Capacitor
100nF Ceramic Capacitor
Mini Toggle Switch SPDT on-on x3
6.35mm 1/4″ Stereo Jack