I reached out to the Ipswich Makerspace in order to get some feedback on the new drum synth kit and instructions. Some willing victims volunteers stepped forward to help me out and assemble some kits with me hovering nearby.
The Space
I was impressed with the Makerspace, especially given the short time they have been open. They have been able to rent a decent size workshop near Suffolk College and collect an impressive array of tools.
Some highlights:
A3 Laser Cutter (Probably engraving too!)
Part built CNC that looks promising
Various 3D Printers
Soldering Irons
The members have meetings/gatherings two or more times a week. They are a friendly bunch that enjoy helping each other with various projects and problems.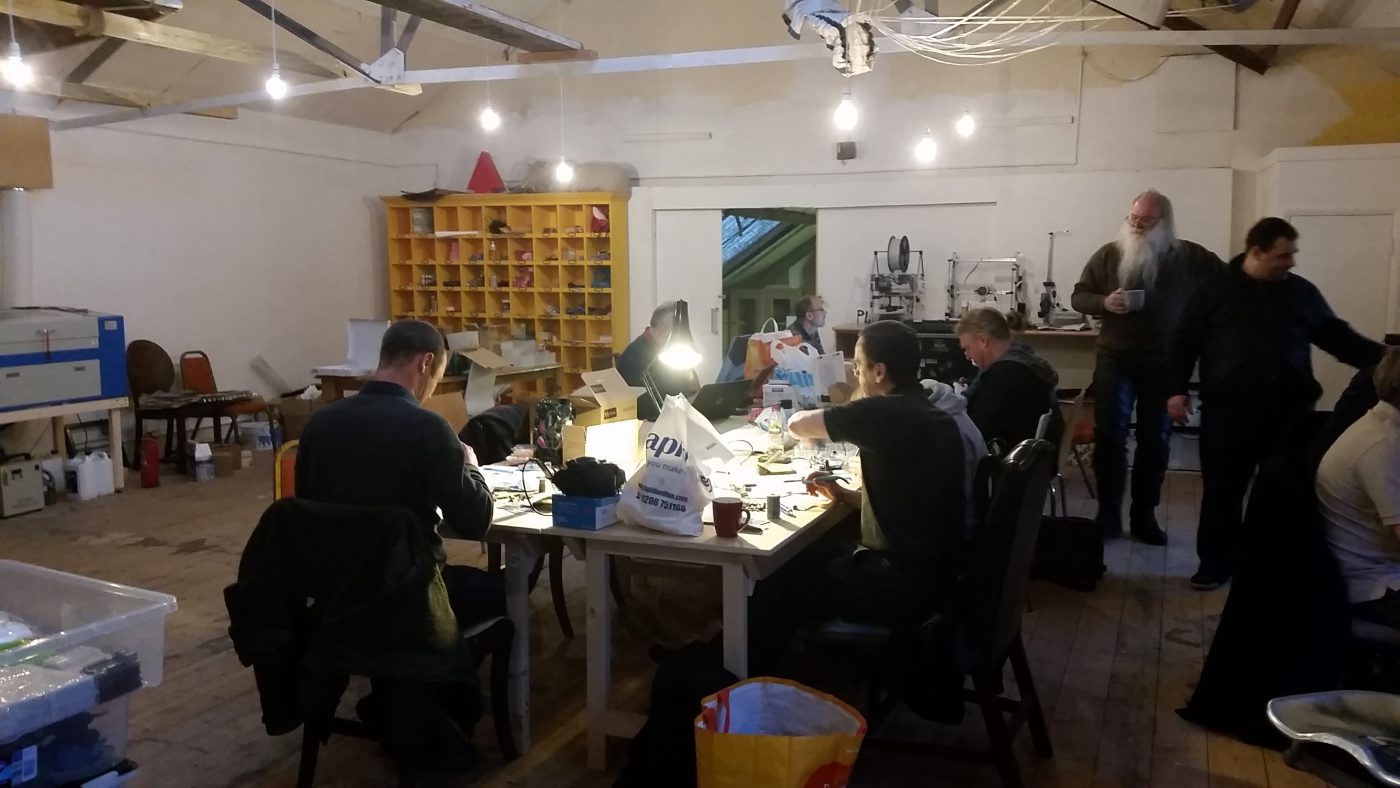 The Volunteers
Steve, Ian and Ryan all did a really good job at assembling the kits. Watching them build the kits really reinforced the importance of good instructions. It really helped me clarify where misinterpretations can be avoided. On the night we only had printed instructions, web based instructions have the capability to be much richer.
Two people managed to complete their kit in roughly two hours which is good going. Both powered up and worked first time, I couldn't have asked for more.
 The Takeaway
Image Maps
Finding the correct holes to poke resistors in took the longest time by far. Ian suggested adding some sort of interactive component map to the website to complement the instructions. I thought this was a great idea so I pinched it and have since figured out a way to use html image mapping and javascript to great effect.
Silkscreen
It should have been obvious really, but people really do pay attention to the silkscreen. A few people gave me feedback about the symbols used on the PCB and had some great ideas about what would be clearer, especially regarding polarity sensitive components.
Instructions
Various suggestions were made regarding the clarity, wording, ordering and images used in the instructions which I will endeavour to use in this kit and going forwards. Watching the guys assemble kits made me realise the importance of high resolution photos and supporting materials.
It's clear that online documentation has the edge over printed media and we will be offering both from now on.